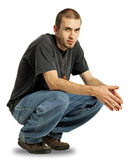 Info on



Boot Camps

Military

Wilderness

Therapeutic

Under 12

Over 18



Submit a Program
Advertise Here!

Chapel Haven
Program Type: Boarding School
Ages: 12-17
State: CT
City: New Haven

Contact Info:
Email: Send an Email using this form.

Program Description:
Chapel Haven is a unique place. We are the country's only combined state-accredited special education facility and independent living facility for adults with cognitive disabilities. For those who enroll in our Residential Program, we are an alternative to college, complete with a dorm-style residence, green campus, dozens of classes, and plenty of opportunities for socializing and personal development. The College Excellence Program, taught at nearby Gateway Community College, adds to the collegiate atmosphere. Others enroll in our Education Program, Recreation Program, Employment Program, or Supported Living Program. For these clients, Chapel Haven is a true resource center, offering individualized attention tailored to changing needs.

Program Rank:
n/a of 5. (0 total votes.)
If you are Chapel Haven
click here to edit/add information on your program.