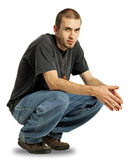 Info on



Boot Camps

Military

Wilderness

Therapeutic

Under 12

Over 18



Submit a Program
Advertise Here!

Key Point Academy
Program Type: Residential Treatment Center
Ages: 12 - 17
State: UT
City: Kanab

Contact Info:
Email: Send an Email using this form.

Program Description:
Where parents can turn when they have tried therapists, school counselors, and spiritual advisors, yet their teen is still clearly in trouble? Key Point Academy is a teen treatment center that can address both your child's behavior and help them catch up academically and improve their school work while giving you hope for your child's academic and professional working future. Key Point Academy offers various programs for troubled teens that emphasize personal responsibility and the need to understand the natural consequences of behavior. Teens are removed from the environment where they have mastered the art of manipulation and are placed in a situation where they learn to recognize negative behavior and make better choices. Toubled Teens who attend Key Point Academy's therapeutic programs can make remarkable advances in academic performance and attitudes in a relatively concentrated period of time. Your child is more likely to return home with a new and more positive outlook on life.

Program Rank:
3 of 5. (3 total votes.)
If you are Key Point Academy
click here to edit/add information on your program.