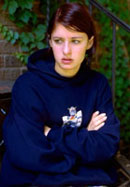 Info on



Boot Camps

Military

Wilderness

Therapeutic

Under 12

Over 18



Submit a Program
Advertise Here!

Turn-About Ranch
Program Type: Residential Treatment Center
Ages: 12 - 17
State: UT
City: Escalante

Contact Info:
Email: Send an Email using this form.

Program Description:
A co-ed residential treatment center for teens ages 13 to 17, located on a working horse and cattle ranch. Turn-About Ranch differs from typical residential treatment centers for troubled teens because it values action Ė not just talk. During their time at the Ranch, students donít only go to school and participate in therapy; they also take an active role in the daily running of a working ranch.

Program Rank:
1 of 5. (1 total votes.)
If you are Turn-About Ranch
click here to edit/add information on your program.