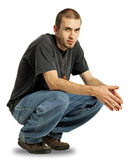 Info on



Boot Camps

Military

Wilderness

Therapeutic

Under 12

Over 18



Submit a Program
Advertise Here!

Cherokee Creek Boys School
Program Type: Residential Treatment Center
Ages: 12 - 17
State: SC
City: Westminster

Contact Info:
Email: Send an Email using this form.

Program Description:
Cherokee Creek Boys School is a therapeutic boarding school for boys ages 11-15 years of age. Academically, CCBS is fully accredited by SACS for grades 5-9. Our students struggle with ADHD, anxiety, depression, attachment issues, PTSD, Aspergers, anger management, oppositional behavior, and other emotional and behavioral issues. We provide a warm, nurturing, and positive learning community that offers the benefits of a small enrollment, hands-on academics, therapy, recreation, sports, family participation and a talented staff dedicated to helping boys find their way back to a life of balance and harmony.

Program Rank:
n/a of 5. (0 total votes.)
If you are Cherokee Creek Boys School
click here to edit/add information on your program.