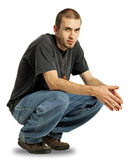 Info on



Boot Camps

Military

Wilderness

Therapeutic

Under 12

Over 18



Submit a Program
Advertise Here!

Summit Achievement
Program Type: Wilderness
Ages: 12-17
State: NH
City: Cold River

Contact Info:
Email: Send an Email using this form.

Program Description:
Adventure-based therapy is an outgrowth of the teachings of Kurt Hahn, founder of Outward Bound, who recognized that certain experiences tend to evoke positive values and behaviors in young people. By providing adolescents the opportunity to prevail in challenging adventures, Summit Achievement helps them discover within themselves the personal qualities and characteristics needed to create a happy, and productive life. Commensurate with Hahn's philosophy, Summit Achievement's adventure-based therapeutic program is designed to give adolescents the tools to address the specific behavioral and motivational problems that encumber their lives in school or at home. Our overriding goal is for each student to grow cognitively, emotionally, and physically.

Program Rank:
3 of 5. (4 total votes.)
If you are Summit Achievement
click here to edit/add information on your program.