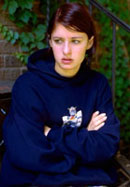 Info on



Alcohol

Cigarettes

Stimulants

Depressants

Hallucinogens

Prevention

Symptoms



Submit a Program
Advertise Here!

Teen and Cigarettes
Cigarettes are available for most teens. Education is the key to prevention. Due to the fact that cigarrettes are legal, and are found everywhere, many teens start smoking cigarrettes at a very early age. Help you teen realize the consequences of smoking.
Smoking is the leading preventable cause of death in the United States.
Nicotine is an addictive drug found in cigarettes.
Approximately 80% of adult smokers started smoking before the age of 18.
Most teens can buy cigarettes even though it is illegal to sell them to minors in all 50 states.
Spit tobacco (chew) is not a safe alternative to smoking. Regular use of spit tobacco can cause cancer of the cheek, gums, tongue, and throat.

Tips for Parents

Show concern. Don't wait for your teen to smoke before you talk about tobacco use. Many kids begin trying cigarettes at 11 or 12 years of age.
Establish rules. Talk about family expectations and rules about smoking. Clearly state and enforce the consequences for breaking the rules.
Know the facts. Talk with your teen about the dangers of smoking. Teens often don't relate to the future health problems caused by smoking, such as lung cancer and heart disease. Try talking about the dangers of smoking in a way that hits home with your teen. Use a relative or close friend who is sick with or died of a smoking-related illness as an example.