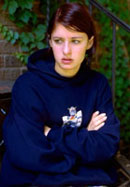 Side Effects of



Adderall

Clonidine

Concerta

Desyrel

Dexedrine

Luvox

Nardil

Paxil

Prozac

Ritalin

Serzone

Wellbutrin

Zoloft



Submit a Program
Advertise Here!

Side Effects of Desyrel
Adverse Desyrel Side Effects
The most common adverse reactions encountered are drowsiness, nausea/vomiting, headache and dry mouth. Adverse reactions reported include the following:
Drowsiness, fatigue, lethargy, retardation, lightheadedness, dizziness, difficulty in concentration, confusion, impaired memory, disorientation, excitement, agitation, anxiety, tension, nervousness, restlessness, insomnia, nightmares, anger, hostility and, rarely, hypomania, visual distortions, hallucinations, delusions and paranoia.
Tremor, headache, ataxia, akathisia, muscle stiffness, slurred speech, retarded speech, vertigo, tinnitus, tingling of extremities, paresthesia, weakness, grand mal seizures (see Precautions), and, rarely impaired speech, muscle twitching, numbness, dystonia and involuntary movements.
Dry mouth, blurred vision, diplopia, miosis, nasal congestion, constipation, sweating, urinary retention, increased urinary frequency and incontinence.
Orthostatic hypotension, hypertension, tachycardia, palpitations, shortness of breath, apnea, syncope, arrhythmias, prolonged P-R interval, atrial fibrillation, bradycardia, ventricular ectopic activity (including ventricular tachycardia), myocardial infarction and cardiac arrest.
Nausea, vomiting, diarrhea, gastrointestinal discomfort, anorexia, increased appetite.
Priapism, decrease and, more rarely, increase in libido, weight gain and loss, and rarely, menstrual irregularities, retrograde ejaculation and inhibition of ejaculation.
Skin rash, itching, edema, and, rarely, hemolytic anemia, methemoglobinemia, liver enzyme alterations, obstructive jaundice, leukocytoblastic vasculitis, purpuric maculopapular eruptions, photosensitivity and fever.
Aching joints and muscles, peculiar taste, hypersalivation, chest pain, hematuria, red, tired and itchy eyes.