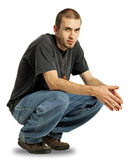 Side Effects of



Adderall

Clonidine

Concerta

Desyrel

Dexedrine

Luvox

Nardil

Paxil

Prozac

Ritalin

Serzone

Wellbutrin

Zoloft



Submit a Program
Advertise Here!

Side Effects of Ritalin
Possible Ritalin Side Effects
Side effects cannot be anticipated.Ê If any develop or change in intensity, inform your doctor as soon as possible.Ê Only your doctor can determine if it is safe for you to continue giving Ritalin.
Common Ritalin side effects may include:
Inability to fall or stay asleep, nervousness These side effects can usually be controlled by reducing the dosage and omitting the drug in the afternoon or evening. In children, loss of appetite, abdominal pain, weight loss during long-term therapy, inability to fall or stay asleep, and abnormally fast heartbeat are more common side effects.
Rare Ritalin side effects may include:
Abdominal pain, abnormal heartbeat, abnormal muscular movements, blood pressure changes, chest pain, dizziness, drowsiness, fever, hair loss, headache, hives, jerking, joint pain, loss of appetite, nausea, palpitations (fluttery or throbbing heartbeat), pulse changes, rapid heartbeat, reddish or purplish skin spots, skin reddening, skin inflammation with peeling, skin rash, Tourette's syndrome (severe twitching), weight loss during long-term treatment.
Special warnings about Ritalin:
Your doctor will do a complete history and evaluation before prescribing Ritalin.Ê He or she will take into account the severity of the symptoms, as well as your child's age. Ritalin should not be given to children under 6 years of age; safety and effectiveness in this age group have not been established. There is no information regarding the safety and effectiveness of long-term Ritalin treatment in children.Ê However, suppression of growth has been seen with the long-term use of stimulants, so your doctor will watch your child carefully while he or she is taking the drug. Blood pressure should be monitored in anyone taking Ritalin, especially those with high blood pressure. Some people have had visual disturbances such as blurred vision while being treated with Ritalin. The use of Ritalin by anyone with a seisure disorder is not recommended.Ê Be sure your doctor is aware of any problem in this area.Ê Caution is also advisable for anyone with a history of emotional instability or substance abuse, due to the danger of addiction.